Bookmark these important and useful curriculum resources.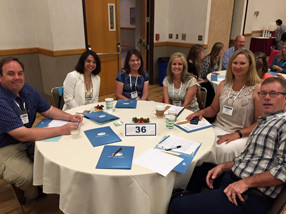 Welcome to Curriculum News & Notes, your source for information on Curriculum Department meetings! Please check this page regularly for the latest in all-things-curriculum here at Park 6.
CERTIFIED EVALUATION TEAM
The Certified Evaluation Team meets three to four times per school year to review the district's certified staff evaluation process and documents. Our teacher evaluation documents were revised in 2010-2011 to meet Wyoming Chapter 29 requirements; evaluation documents for counselor, instructional facilitator, library/media specialist, school nurse, school psychologist, therapeutic specialist, and Title I teacher were created in 2011-12. Team members include administrators, a school board member, and representatives from each evaluation category and school.
The district Health & Wellness Team reviews and discusses information relating to health, wellness, and nutrition within the district as well as in the community as a whole. The team, led by the school nutrition director, meets three to four times per school year, and team input is vital to updating our annual wellness report. Team members include teachers, administrators, a school nurse, students, parents, and community representatives.
Title I is a federal program to provide reading and math interventions for at-risk students. Eastside and Sunset elementary schools have qualified for school-wide status, which allows staff to support any student struggling with reading and/or math. Title I teachers and administrators meet five to six times per school year to collaborate, review needs, update their programs, and plan parent advisory meetings.
CURRICULUM UPDATES & RESOURCES