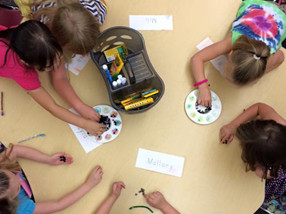 LEARN ABOUT OUR SUMMER PROGRAMS
Park County School District 6 offers summer programs for students in pre-k through high school. Take a look at the programs we offer and, if you're interested in registering your child, please contact the hosting school for details.
Kindergarten Readiness Camp: We offer this camp to all incoming registered kindergartners every school year.

Extended Kindergarten Readiness Camp: This camp is for students identified at the kindergarten screening as needing additional support. In addition to attendance at our regular Kindergarten Readiness Camp, we give these students the opportunity to attend an extra eight days of school.

Jump Start: This program is for students in K-7 grade who have been identified through the school summer programs referral process.

Credit Recovery, Credit Completion, and Body of Evidence Completion: This program gives high school students the opportunity to recover credit for a class they failed in the spring or complete a class/credit they did not finish. We also refer students for Body of Evidence completion.